2017 TEXAS A & M UNIVERSITY TIAS FACULTY FELLOW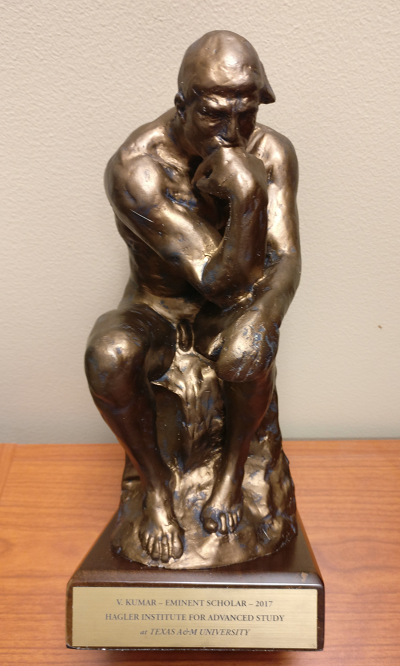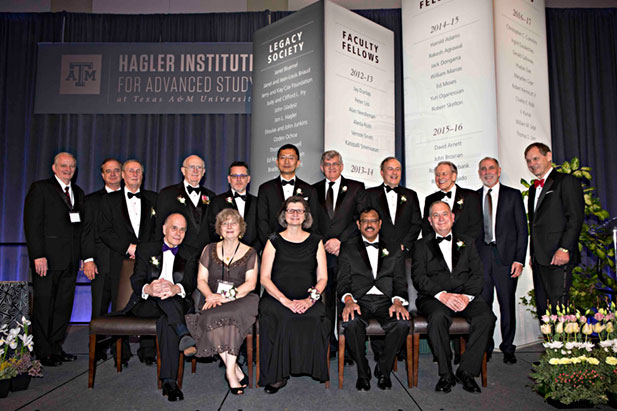 Dr. V. Kumar was presented with the 2017 Eminent Scholar Award by the Hagler Institute for Advanced Study at Texas A & M University.
The Hagler Institute for Advanced Study at Texas A&M University welcomed its fifth class of Faculty Fellows during its annual gala in the Bethancourt Ballroom of the Memorial Student Center on Friday, February 24, 2017.
In addition, the Institute honored Jon L. Hagler, a long-time Texas A&M benefactor who gave a $20 million gift to establish an endowment that provides long-term funding for the Institute.
In his remarks, Hagler expressed his support for the Institute and its mission.
"Great things can be accomplished with a commitment, a vision and an adequate and sustainable investment," Hagler told the gala audience, according to the Bryan-College Station Eagle. "I am very privileged to be part of this, and I hope it will assist this wonderful institution in fulfilling not only its historic legacy, but the one that these times demand."
Other featured speakers included Texas A&M University System Chancellor John Sharp; Texas A&M University President Michael K. Young; and Hagler Institute Founding Director John L. Junkins.
Faculty Fellows in the Class of 2016-17 are:
Christopher C. Cummins, Henry Dreyfus Professor of Chemistry, Massachusetts Institute of Technology;
Ingrid Daubechies, James B. Duke Professor of Mathematics and Electrical and Computer Engineering, Duke University;
Gerald Galloway, Glenn L. Martin Institute Professor of Engineering, University of Maryland;
Huajian Gao, Walter H. Annenberg Professor of Engineering, Brown University;
Maryellen Giger, A.N. Pritzker Professor of Radiology and college vice-chair for basic science research, University of Chicago;
Robert Kennicutt Jr., Plumian Professor of Astronomy and Experimental Philosophy, University of Cambridge;
Charles E. Kolb, president and chief executive officer, Aerodyne Research Inc.;
V. Kumar, regents' professor and the Richard and Susan Lenny Distinguished Chair Professor of Marketing, Georgia State University;
William M. Sage, James R. Dougherty Chair for Faculty Excellence, School of Law, and professor of surgery and perioperative care, Dell Medical School, The University of Texas at Austin, and;
Thomas S. Ulen, Swanlund Chair Emeritus, School of Law at University of Illinois at Urbana-Champaign.