INDUCTED AS THE FELLOW OF THE AMERICAN MARKETING ASSOCIATION, 2017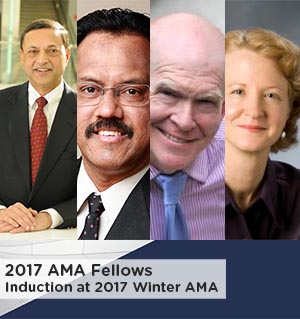 The American Marketing Association is pleased to announce the selection of four extraordinary scholars to be inducted as AMA Fellows. The new Fellows will be honored at Winter AMA 2017 in Orlando on February 17, 2017 at a special reception.
V. Kumar, Georgia State University
V. Kumar (VK) is the Regents Professor, Richard and Susan Lenny Distinguished Chair Professor of Marketing, and executive director of the Center for Excellence in Brand & Customer Management at the J. Mack Robinson College of Business at Georgia State University. He has been recognized with 13 lifetime achievement awards in marketing strategy, inter-organizational issues, retailing, business-to-business marketing, and marketing research from the AMA and other professional organizations. VK has also received the Paul Converse Award and has been honored as a Legend in Marketing where his works were compiled in to 10 volumes with commentaries from scholars worldwide. VK is the current Editor-in-Chief of the Journal of Marketing and serves as either the AE or as an ERB member of most of the scholarly journals in marketing and forecasting. VK has also been honored as the Chang Jiang Scholar, HUST, China; Faculty Fellow, Texas A&M university Institute for Advanced Study, College Station, TX; and Senior Fellow, Indian School of Business, India.